The Magic Bullet

                                                  By John Vitou

My job at Bravo was FDC Sgt Freddy Voyles from Texas and Pvt Schubert from Tenn.were also assigned with me to Bravo.  I was with Bravo until the ambush on Hwy 9 at Bridge 28. I was ruff riding in the lead truck with an M-60. I don't know who the driver was but a guy called Slick was riding shotgun. We approached the bridge and the bridge guard was dead in the road, a spotter plane was buzzing the hillside above it directing a fire mission.

I remember he was strafing holding his M-16 out the window. We waited a while put the bridge guards body in a truck then started across the bridge. About 1/2 way across all hell broke loose rounds were hitting the truck the 2 guys up front got down one working the pedEls and 1 steering. I directed my fire up the draw from the bridge (all this occured in a matter of seconds but it seemed much longer) the M-60 jammed I turned my head to clear it when a bullet shot my glasses off and blew out both lenses and frame, had the gun not jammed I would have taken it between the eyes. I dropped the M-60 and used my M-16 to spray the area, then we were across the bridge and around the curve.

We dismounted the truck and a platoon of grunts from 5th Marines were there as was a KIA and a radio man wounded (there is a book "these good men" the opening chapter tells the ambush from there view point). The grunts and an M-48 tank went up to the kill zone and engaged the NVA, they took some casualties and the Platoon Sgt. had us go up an bring them back. There were 2 wounded and they were put on poncho's one guy to a corner and carried back to the truck.

I was bringing up the rear caring the rifles of several "strecher bearers" when I was shot in my lower right leg. I crawled back to the truck and the corpsman put a torquinet on my leg I had an artery severed.

They unhooked the warer buffelo from the truck and put the wounded in the back myself included and driven to CaLu where there was an aid station. I was med-evaced to Dong Ha then to Phu Bai for surgery. After a day or so I was flown to Da Nang for med-evac to asan navel hospital on Guam for more surgery (I lost quite a chunk of leg so they did a skin graft to cover it).

I returned to the states in may and spent 6 months at Great Lakes Navel Hospital north of Chicago. In Oct of  68 I was  placed on limited duty and assigned to C-Btry 1/10  2nd Mar. Div. at Le jeune awaiting a medical evaluation board. In June of 69 I was honorably discharged with a 30% disability. rating....        

My life since has been typical of a lot of vets. I went back to my job at Sears and have been there 41 years as a maintenance repair guy. Sears has been the anchor and constant in my life. I've been divorced twice and been married for 20 years to my present wife. I have 3 children, a 38 year old lawyer by wife number 1, and a daughter 20 in college and a son 15 in high school by my present wife. I don't blame the war for any thing perhaps things would have turned out different with out it. the one thing I have tried to figure out is why did the M-60 jam when it did and was it "luck"," poor marksmanship on the part of my adversary" or" divine intervention" that spared my life that day. All I know is I probably would be dead if the gun did not jam. So every day since has been a gift, and when ever I have a bad day or some seemingly insurmontable problem, I reflect back and say to myself it could have been a lot worse.

Sorry to ramble on about the "magic bullet" but that's why I can write this 39 years later. I went to the Mobile Wall and looked up Duke Mendoza and the other people from bravo Killed In Action, and also a high school friend.

Semper Fi,

John Vitou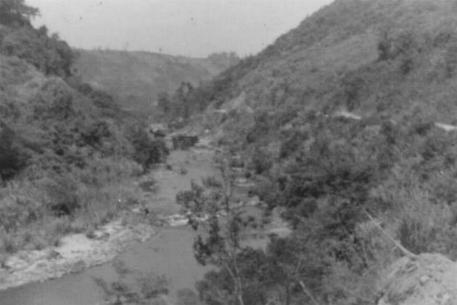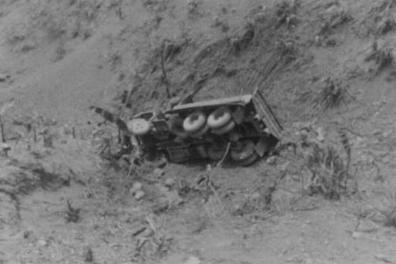 ONE OF THE TRUCKS AFTER AMBUSH ON ROUTE #9. THE NEXT DAY IT WAS FOUND TO BE BOOBY TRAPED

RIVER RUNNING ALONG ROUTE #9

FACING WEST NEAR AMBUSH SITE.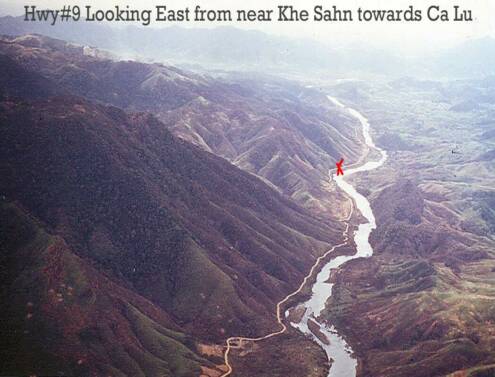 Red "X" is approximate site of where Bravo was ambushed on 19 April 1968

William Adams, Donald Allen, Gilbert Mendoza were killed in action here.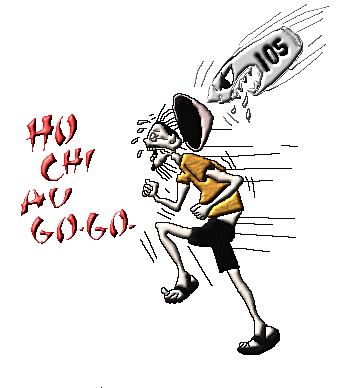 REMEMBER OUR FALLEN & WOUNDED BROTHERS FROM

THE ROUTE 9 AMBUSH ON 19 APRIL 1968, PLEASE FEEL FREE TO ADD YOUR REMEMBRANCE'S, THOUGHTS & FEELINGS. IT HAS BEEN 40 YEARS SINCE THE AMBUSH AND OTHER BATTLES WE FOUGHT IN, BUT FOR THOSE THAT FOUGHT, IT WAS ONLY LAST NIGHT.