Battle for Iwo Jima - World War II

  February 19 to March 16,1945 

    Historical Facts and Figures

Location: Approximately 650 miles south of Tokyo, Japan.

Size of Island: Approximately 2 miles wide, 4 miles long; 8  square miles

Iwo Jima was the first native Japanese soil invaded by Americans in W.W.II. Approximately 60,000 Americans and 20,000 Japanese participated in the Battle.

The American Flag Raising on Mt. Suribachi took place on February 23, 1945 - the fifth day of battle. The Battle continued with increased intensity for a month more. Almost 7,000 Americans were killed in action at Iwo Jima - more than 20,000 American casualties.

Approximately one-third of all Marines killed in action in World War II were killed at Iwo Jima, making Iwo Jima the battle with the highest number of casualties in Marine Corps history.

Twenty-seven Congressional Medals of Honor were awarded in the Battle - more than were awarded to Marines and Navy in any other Battle in our country's history.

Three of the men who raised the flag in the Joe Rosenthal photo were killed before the Battle was over.

After the capture of Iwo Jima, more than 30,000 American Airmen's lives were saved when more than 2,400 disabled B-29 bombers were able to make emergency landings at the Iwo Jima Airfield after making bombing flights over Japan.

Approximately 132 Americans killed at Iwo Jima were unidentifiable and listed as unknown.

More than 50 4th Division Marines died of wounds aboard ship and were buried at sea.

The U.S. government returned the island of Iwo Jima to the Japanese government in 1968, after the bodies of the men in the 3rd, 4th, and 5th Division cemeteries were removed to the United States.

                  Joseph Petrovics

Iwo Jima Memorial Monument Sculptor

The Iwo Jima Memorial Monument was sculpted by Joseph Petrovics. Born in Hungary, Mr. Petrovics received Bachelor of Fine Arts and Master of Fine Arts degrees from the Academy of Fine Arts in Budapest. He was awarded the Derkovits Prize for young artists in 1987 by the Hungarian government. In 1988 he moved to the U.S., sponsored by Alex Ettl of Sculpture House Castings in New York. For four years Mr. Petrovics was employed as a Sculptor-in-Residence at the Ettl Farm Art Colony in Princeton, New Jersey. The Iwo Jima Survivors Association, Inc. signed a sculpture contract with Sculpture House Casting in 1992, and Alex Ettl commissioned Mr. Petrovics to sculpt the memorial monument.

Mr. Petrovics works with a variety of materials including clay, plaster, bronze, stone, wood, and marble. His work has been exhibited both in the U.S. and Europe at such places as the Consulate of Hungary, The Bronx Museum of the Arts, The Hungarian-American Heritage Center, the International Exhibition of Miniatures in Holland, and the Godollo Gallery and the "Art Toady" International Art Exhibition in Hungary. In 1992 Mr. Petrovics opened his own studio in Blawenburg, New Jersey.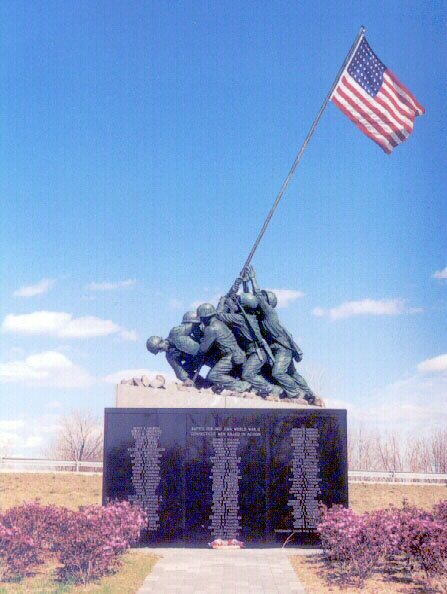 Erected by the Iwo Jima Survivors Association, Inc.

Newington, Connecticut