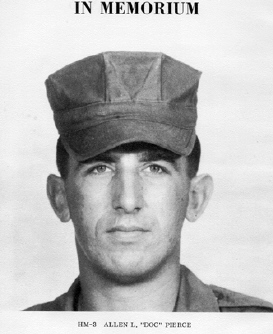 Allen Linn Pierce was born on April 28, 1941 and joined the Navy while in North Bend, OR. He served as a BM3 in the Navy. In 3 years of service, he attained the rank of HM3/E4.

On February 24, 1966, at the age of 24, Allen Linn Pierce perished in the service of our country in Quang Tin, South Vietnam.  You can find Allen Linn Pierce honored on the Vietnam Veterans Memorial on Panel 5E, Row 74.

On 9/13/03 flowers were placed at the Wall in Washington DC to honor Allen and other Marine members of Bravo Battery, that were Killed In Action in the Republic Of Vietnam.